A Moving Experience for Road Scholar Military Veterans in Normandy
By Guest Blogger, Road Scholar*:
This September, a group of 24 military veterans and their travel companions embarked on a Road Scholar program in Normandy, France. This special departure was Road Scholar's first program offered exclusively for military veterans and their travel companions.
The nine-day educational program took these Road Scholars from Paris to the beaches of Normandy to learn about war history, art history and the places where these two faces of France intersect. The itinerary was based on one of Road Scholar's most popular European programs, The Best of Northern France: Paris and Normandy, but was enhanced to include additional military history programming, along with a visit to the Musée de l'Armée (Army Museum) in Paris and a field trip to the Mémorial de Caen, commemorating World War II's "Battle for Caen." The veterans were also presented with bleuet de France flower pins — France's symbol for memory and solidarity with veterans, similar to the remembrance poppy used in the U.K. and U.S.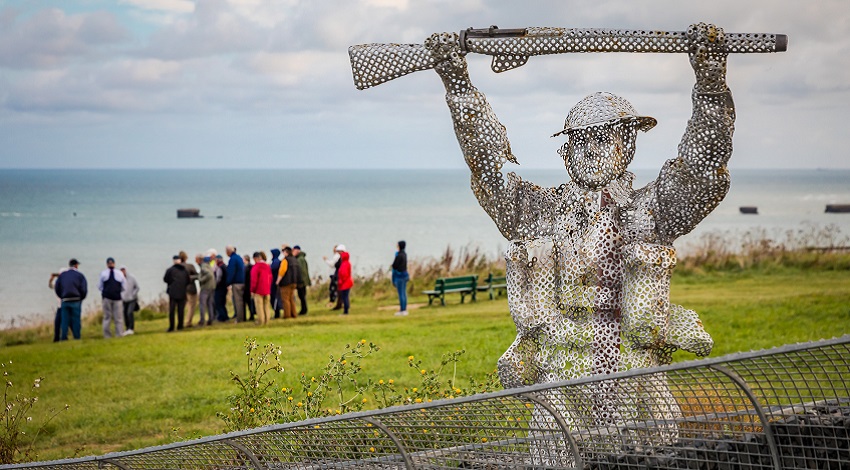 Get on our Ageless Traveler List for discounts on trips, products, and services.
Get early access to special trips so you never miss out on the deals you want.
Get invitations to unique events and happenings.
We will not send you annoying sales emails, will not share your information and will only alert you to worthwhile GOODIES!

*From everyone at Road Scholar: Thank you so much to all of the military veterans and their family members in the Road Scholar community for your service and sacrifices.
You can see more moving photos from this program here.
Nancy K., a former Air Force nurse, was joined on the trip by her husband Karl, a retired naval captain. The couple from Wichita, Kansas had been on 17 programs with Road Scholar, including a previous trip to Normandy and Paris. They were drawn to this program because of the emphasis on military history. "This added to what I learned five years ago on the Normandy to Paris trip by Road Scholar," said Nancy. "Sharing this with veterans provided a stronger bonding experience. It was great to hear about the experiences of the other veterans."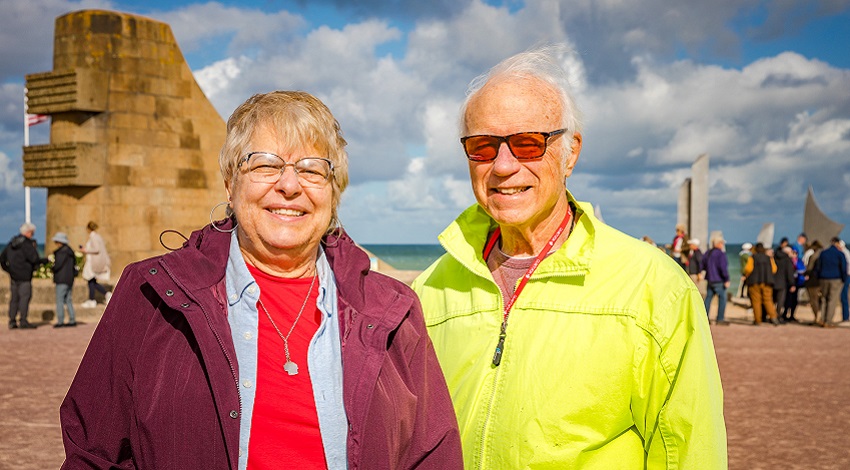 Leigh S., from Bremerton, Washington, served in the U.S. Navy as a judge advocate (lawyer) and retired as a Lieutenant Commander. "Looking back, forty-four years down the road, I consider joining the Navy to be the single best decision I've ever made," said Leigh. "I've found that regardless of age, sex, or branch of service, there's a bond that connects all veterans. I've always wanted to visit Normandy, and the opportunity to do so with fellow veterans was too good to pass up."
Leigh traveled with her sister. "I called my sister on Veteran's Day and asked if she'd like to go … It took her about 20 seconds to say, 'Sign me up!' She'd been to Normandy before and found it to be an impactful experience. She was grateful for the chance to visit again."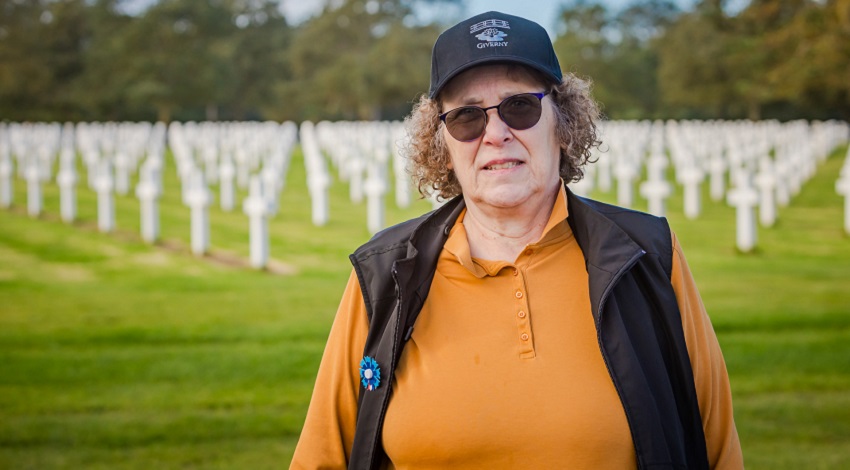 The most impactful day of this program was the day the group of veterans visited Omaha Beach to walk in the footsteps of WWII soldiers. At the Normandy American Cemetery, they took part in a moving ceremony to pay respects to those who made the greatest sacrifice of all on June 6, 1944. And later that afternoon, participants had the opportunity to visit a virtually unknown American Memorial at a local cider maker's farm.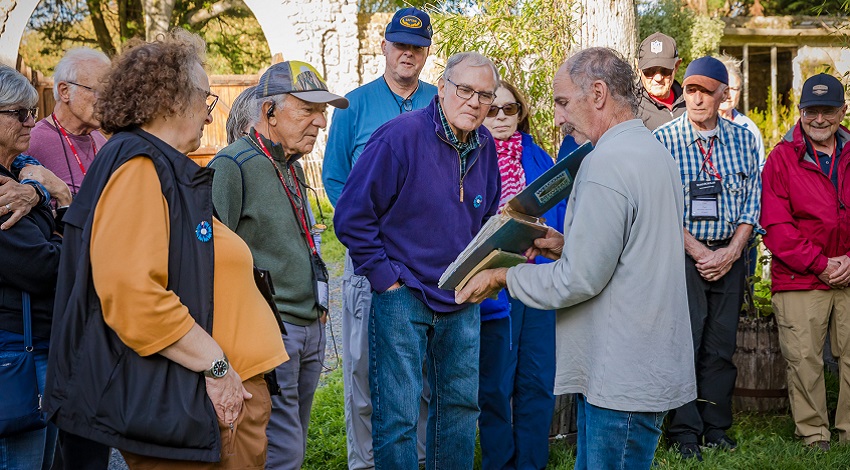 Libby C., the Group Leader who led the group throughout their nine days in Normandy, said that the program experience was very moving — not just for the participants, but for her as well. "I've led this program countless times, but this is the first time we've had a special date just for veterans," she said. "It took this already very emotional program to the next level. I could feel the camaraderie among the veterans grow even more quickly and more deeply, and the events in which we honored fallen soldiers and other WWII veterans held a heavier weight. There was a sense that these people understood at a deeper level the sacrifices and experiences of the historical heroes and events we were commemorating. It was an unforgettable experience for them, but for me as well. A great honor."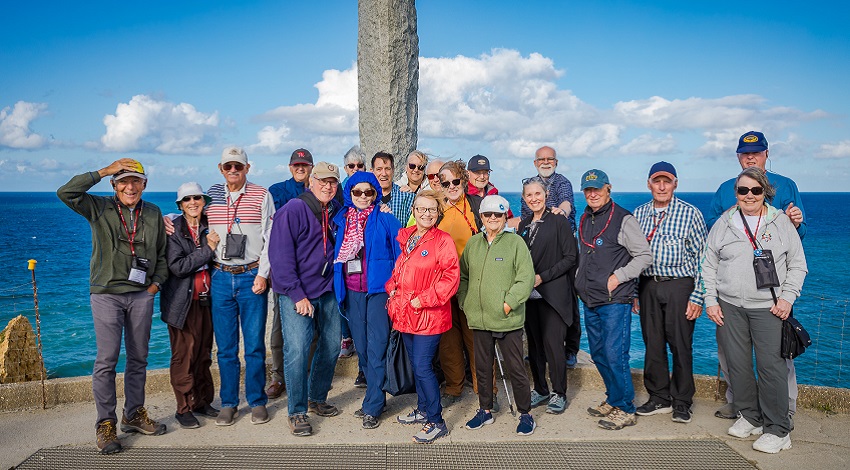 David M. from Clear Lake, Minnesota, served in the U.S. Navy for 40 years. He and his wife Gretchen first traveled with Road Scholar in 2015 on a service learning program onboard the USS Missouri in Pearl Harbor in 2015 and have been on many Road Scholar programs since then. When David received an email in his inbox on Veteran's Day last November from Road Scholar announcing our first all-veteran's trip to Normandy, David and Gretchen, whom he describes as "my lifelong champion with a keen interest in history" enrolled in the program that very day. They even recruited a friend to join them as well.
Not only was David a veteran himself, but his uncle Bill was a medic in the U.S. Army during WWII and was wounded three times. "I always wanted to learn more about events that my uncle may have been involved in, and to share it with other veterans was even more special!" said David.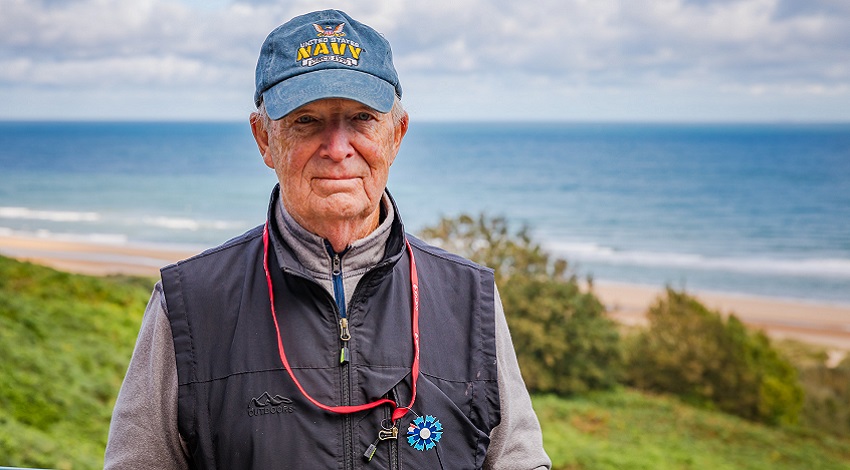 Many of the participants who attended this program had parents or other relatives who served in WWII, including multiple participants whose uncles landed on the beaches of Normandy in 1944. "I have always wanted to go to Normandy," said Marty B., from Coquille, Oregon. "My Uncle Martin landed in Normandy, served with the 29th infantry division and was in combat all the way into Germany until the end of the war." Marty himself is also a veteran and traveled with his wife, Mary Jo on their tenth Road Scholar program. "She encouraged me to participate in this program. We were married just before my deployment to Vietnam, and we just celebrated our 55th anniversary."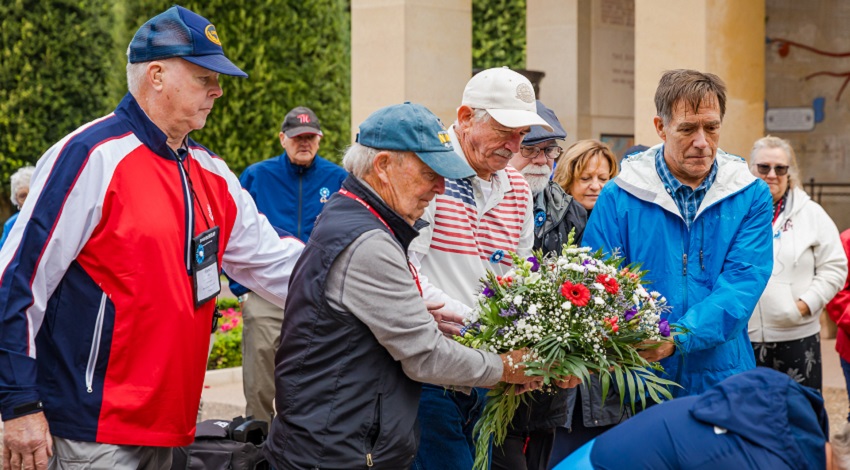 Karen D. and her husband Gary, a U.S. Army vet from Delaware, Ohio, enrolled in this program to honor Gary's uncle who participated in the D-Day invasion and died of his wounds. "Honoring Uncle James and seeing the exact spot he landed in Normandy will forever be a lifetime highlight," said Gary.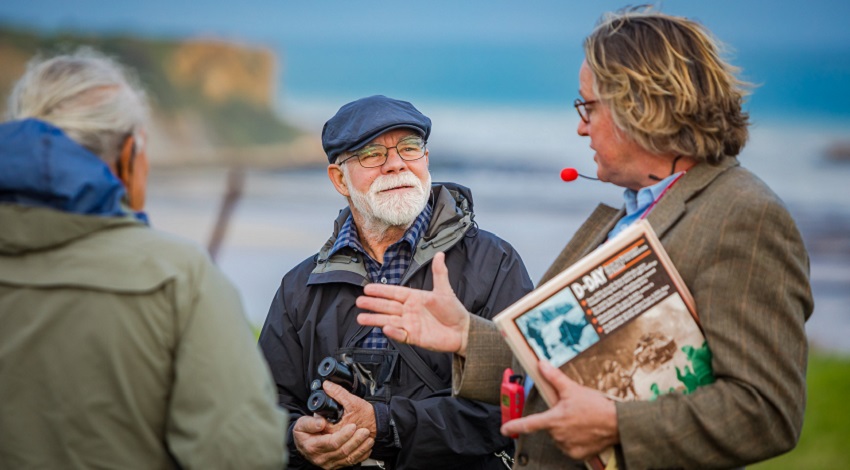 Other participants described the program as "beautifully and sensitively planned," "emotional and informative," "moving." Another said that laying flowers at Omaha Cemetery and hearing the National Anthem and Taps "will forever be etched on my heart." Suffice it to say, this was a once-in-a-lifetime experience that will not be soon forgotten.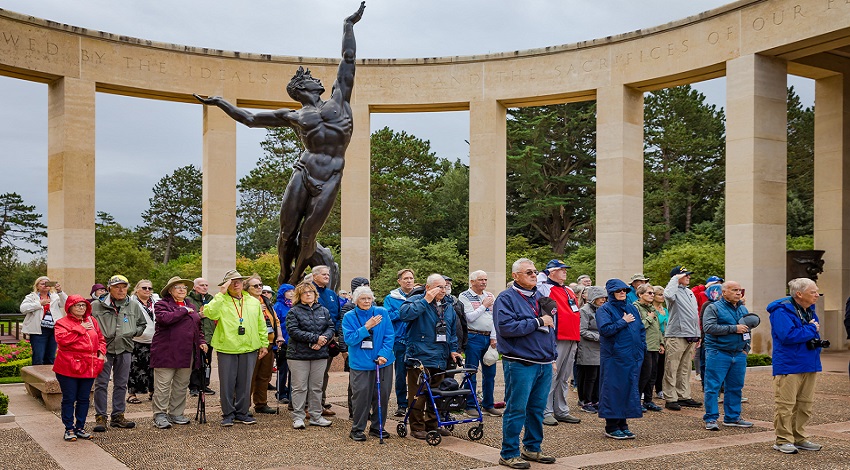 "Many Road Scholar participants and alumni are veterans of the armed forces, and our military history programs from Gettysburg to Pearl Harbor are some of our most popular learning adventures," says Road Scholar's Chief Program Officer, Maeve Hartney. "We are proud to be able to honor the legacy of these American heroes who are attending the program at the same time that we honor the courageous veterans who fought in World War II."
Read More Ageless Traveler Blogs